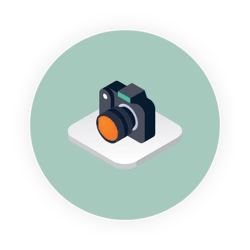 No matter your business or industry, you can benefit significantly from having professional, original photography. Solely relying on stock photography can leave your brand identity and content lacking in a variety of ways. It's important to represent your company professionally and having effective photography is the best way you can do that.

Photography can also help improve the quality of your website by providing you with original assets. This can include professional headshots which can help your employees and leadership team stand out to prospective clients and are great assets to have.
WHAT CAN PROFESSIONAL PHOTOGRAPHY DO FOR YOUR BUSINESS?
We are adept at helping you with all of your photography needs. We have done a large number of professional headshots for clients along with on-site shots in order to create a backlog of assets for content creation. We can travel on-site to get whatever shots you need. Investing in professional photography is a great step towards better content creation and improving your brand image.

If you're interested in learning more about how we can help you with your photography, get in contact with us!
RECENT
BLOGS
Check out the most recent thoughts from our team. A combination of marketing, design, business management, culture, and more!