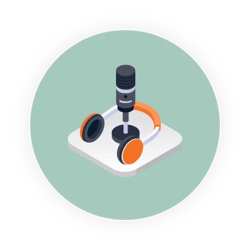 Digital audio is a growing marketing channel that creates new opportunities for reaching and engaging with your target audience. It provides you several different options for content, platforms, and targeting and can elevate your marketing efforts. The variety of options available means that digital audio can be very effective if you understand how to use it effectively.
HOW CAN DIGITAL AUDIO BENEFIT YOU?
There are numerous options for creating audio content and different platforms to choose from. We can help determine the best types of audio content for your business whether that be audio ads or producing a podcast for you.

Audio ads have great targeting options that allow you to get very specific when placing your ads. They can be added on to relevant music, podcasts, and satellite radio stations. The variety of options can be overwhelming, but we do in-depth research in order to decide which options might be the best for you.

Podcasts can be great tools for building trust and establishing yourself as a thought leader by giving you a platform to exhibit your knowledge. We have the capabilities to help you record, edit, and distribute your podcast across all major platforms. We even have the ability to record podcast episodes remotely or in person with the highest audio quality.

If you'd like to learn more about how we can help you with digital audio, feel free to reach out.
RECENT
BLOGS
Check out the most recent thoughts from our team. A combination of marketing, design, business management, culture, and more!