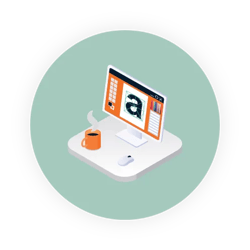 If you haven't changed or updated your branding within the last decade then it may be time to consider a rebrand. There are exceptions of course, but sometimes what worked in the past simply isn't as effective today. We've helped companies find a new more effective voice through branding and we are very well-versed in finding the true identity of your business. In order to compete within your ever-changing industry, it's important to make sure your voice and identity resonate with your potential leads.
OUR BRANDING PROCESS
If you're in need of a new name then our naming process is one of the first steps we will go through with you. We'll gather key input from you and go through several high-level brainstorming sessions within our company and then work to research and refine any names we are able to come up with. We will narrow it down to the 5 best names and determine what fits best with you.

After naming we then work through logo and brand development. Our four-step process starts again with functional input & data gathering and then moves along to creative development. We then work to develop a brand guideline your company can use when creating content amongst other things and an in-depth plan on how you'll roll everything out. We then work to make a deeper brand identity that fits your company well!

If you have any further questions on our branding service or you'd like to see what we can do for you, feel free to reach out!
RECENT BRANDING
BLOGS
Check out the most recent thoughts from our team. A combination of marketing, design, business management, culture, and more!